Scleral lens is a specialized large diameter rigid gas permeable lens that rests on the sclera (the white portion of the eye). The scleral lens traps a layer of fluid between the back of the lens in front of the cornea, ensuring that the eye remains hydrated the entire time the lens is worn, enabling the eye to comfortably heal.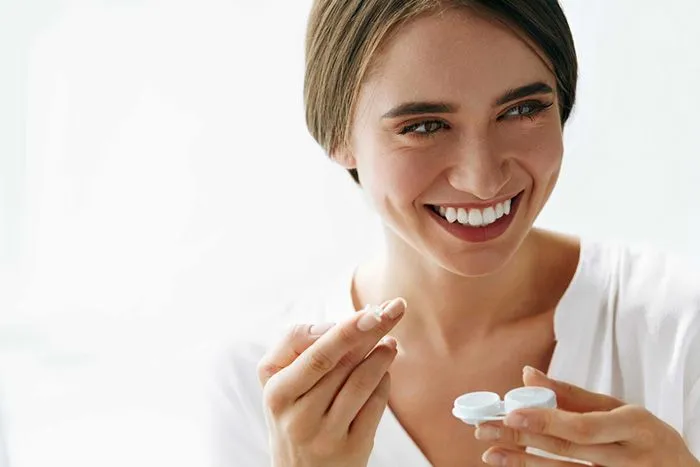 How are scleral lenses different from any other contact lenses?
They are relatively larger because they land on the sclera instead of on the cornea like other contact lenses.
Many patients report that scleral lenses are more conformable to wear than corneal lenses. Because the lens sits firmly on the eye and it offers more stable vision than traditional lenses.
When might one consider scleral lenses?
If you have any of the following eye conditions, scleral lenses may be an option for you.
Severe dry eyes
Keratoconus - an eye disease that affects the structure of the cornea, the cornea is misshapen becomes thin and develops an irregular cone shape.
Corneal complications irregularities eye injury or eye surgeries complications
Nerve disorders of the eye
High astigmatism
You are unable to comfortably wear traditional contact lenses
Scleral lenses are an ideal solution for patients who don't feel comfortable wearing glasses or regular contact lenses. Irregular corneas cannot be corrected with eyeglasses or with any traditional contact lenses. Many patients find scleral lenses are comfortable to wear daily.
Benefits of Scleral Lenses
Because a scleral lens is stiff, it provides a smooth refracting surface for the eye. The purpose of the scleral lens is to avoid corneal discomfort because it rests on the less sensitive area of the sclera. The extra moisture provided by the scleral lens helps improve eye comfort in the long term. This can lead to greater visual acuity, usually better than with eyeglasses and traditional contact lenses.
Scleral lenses hold fluid against the eye ensuring that the eye remains properly lubricated and fluid layer helps smooth out any irregularities in the shape of the cornea, which improves visual acuity.
Advantages of Scleral lenses compared to traditional lens
Durable
Acute vision
Easier handling
Enhanced protection from debris and any allergens
High breathability due to the gas-permeable silicone compounds used
Prior to prescribing contact lenses, Dr. Nakhlis determines what level of vision correction you require. Refractive error (commonly known as nearsightedness, farsightedness, or astigmatism depending on the error) is evaluated by measuring how the eyes focus when a series of different lenses are placed in front of them. An eye care provider may use either a phoropter or an automated instrument to take these measurements. To schedule an appointment for a vision evaluation with our Des Plaines Doctor of Optometry, call (224) 236-2020 today.