As you get older, your risk of age-related ocular disease increases. One of these conditions is called macular degeneration. This might not be a problem when you're in your 20s or 30s, but macular degeneration can cause serious eyesight issues as you get into your 40s and 50s. If you have family history of macular degeneration or are suffering from visual symptoms as a result macular degeneration, read below about how our optometrists at Des Plaines Eye Care Center can help.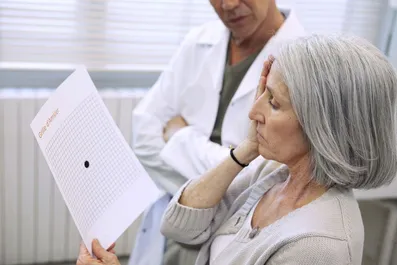 What Is Macular Degeneration?
Macular degeneration is a very serious disease that causes permanent central vision loss. The macula, which is a part of the retina is affected. This condition is also referred to as age-related macular degeneration since it typically occurs in the later years of life. Many factors can increase your risk of developing this condition. These include: family history, smoking, being female or Caucasian. The condition has many different stages and with each stage comes different treatment options.
What Causes Macular Degeneration?
The exact cause of macular degeneration is still being researched. Currently we know that there are environmental and hereditary factors that can increase ones risk of developing this condition. Smoking, excessive UV exposure, lack of exercise and poor nutrition are just a few of the factors.
Getting Help from an Optometrist
Any individual with macular degeneration or at risk of developing macular degeneration should regularly be monitored by an optometrist. Vision that is lost as a result of this condition is permanently lost so it is important to prevent any vision loss. Although currently there is no cure for macular degeneration, there are still numerous ways to slow down the progression. The optometrists at Des Plaines Eye Care Center will ensure that a plan is made for each patient that is unique to their specific case.
We're Here to Help
The last thing you want is to let your eyes degrade to the point where you can't see well enough to live a comfortable life. Fortunately, our optometrist can help you keep your eyes healthy for longer. If you need to have your eyes examined or get a new pair of prescription glasses call Des Plaines Eye Care Center to schedule an appointment today.